Greetings Grecians!
The second week of Greek Life is upon us and with it some pretty cool New Stuffs to Stuff into our Stuffed Game of Family Guy: The Quest for Stuff. And Stuff!
With Week 2 of the Greek Life event, we also get some new Characters. Like Hades.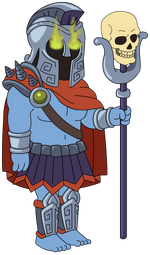 Let's take a look at what Hades can do in our silly lil games.

Hades is a Character added during Week 2 of Greek Life 2016. As with (almost) all Characters in TQFS in order to unlock him you'll have to collect lots of STUFF.
For Hades, the STUFF you had to earn for him revolved around the University Store. The prizes in the Store were available to be unlocked in any order and once you opened the Store in Week 2, this started Hades' 7 day timer. If you tapped on him in then you could see 8000 Ambrosia
, 25 Golden Apples 

& 10 Golden Fleeces 
were required to unlock him.
HADES UNLOCK PIC
Once you got enough apples, fleeces & ambrosia, then you can unlock Hades! He will be first put into your inventory, and you will need to tap on him there to bring him into your game and unlock him!
He does come with a questline, Greek Tragedy, more on that here.
---
Hades does come with a complete set of Tasks! Tasks that will help you earn Rush Points and Ambrosia! Hades also has an 8h task to help earn Styx Coins
.
Let's take a look at some of Hades' tasks:
| | | | |
| --- | --- | --- | --- |
| Task | Length | Earns | Other |
| Hang Out in the Shadows | 2hrs | 2,     1 | n/a |
| Reveal the Underworld | 4hrs | 6,    1 | |
| Reign Terror | 6hrs | 8,    1 | n/a |
| Make the Elderly Nervous | 8hrs | 9,  1 | |
| Play Fetch | 10hrs | 10, 1 | requires Tri-Bri |
| Go Shopping for New Skulls | 12hrs | 12,       2 | Hades Lvl 5 |
Inspire Junior-High Notebook Artwork 16h 14
, 2
Hades Lvl 3
Walk Cerberus 24h 18
, 3
Hades Lvl 7
**Note: Within an Event, tasks may change and vary as the Phases come and go. So some of these tasks will be temporary. Others may be one time use. Some will stick around even after the Event. We won't know until the Event ends.
---
And there you have it, the complete breakdown for Hades.
What do you think of the God of the Underworld, Hades? Did you unlock him yet? If you got him, what do you think of his tasks? Have a favourite? Let us know!
~Lotty