Greetings Greecians!!
The fourth & final week of Greek Life event back in 2016 brought us some pretty cool new stuff and one of those things was the Medusa Meg character costume. And now she's back in the Tales of Future Past Mystery Box I thought we would finally  bring you the profile that no one wants to look at, lol.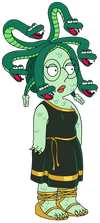 Let's take a look at what Medusa Meg can do in our silly lil games.
Medusa Meg was a New Character Costume added during the fourth week of Greek Life 2016, and now returning a year later as we do some time travelling through history as part of Quahog's Excellent Adventure. As with many costumes in the game you originally had to collect lots of stuff to get her, but this time round she's a premium prize in the Tales of Future Past Mystery Box.
If you should win her in the mystery box, it will just take you 1 second to finish up and "CREATE!" the Costume in Al's. When the timer is up, just tap on the Check Mark above Al's to pull Medusa Meg into your game.
She does come with a Questline, Stone Cold Meg, more on that in a later post.
---
Medusa Meg does come with a complete set of Tasks! Tasks that will help you earn $ & XP.
Let's take a look at some of Medusa Meg's Tasks:
Task
Time
Earns
Drops/
Level
Visit a Reptile House
1hr
20  12 
Mingle With Mortals
2hrs
30  20 
Turn Haters to Stone
4hrs
50  30
Make Friends
6hrs
65  45 
Tame Her Hair
8hrs
80  50 
Be Stone-faced
10hrs
90  59 
Condition Her Hair
24hrs
150  100 
Save
Save
Save
Save
Save
---
And there you have it, the complete breakdown for Medusa Meg!
What do you think of so-ugly-she'll-turn you-to-stone Medusa Meg? Where are you on unlocking her? What do you think of her tasks? Have a favourite? Let us know!
~Lotty
Save